US Representative Jackie Walorski and Two Aides are Killed in Car Crash
The Republican congresswoman had represented Indiana's 2nd District in the US House of Representatives since 2013.
Rep. Jackie Walorski (R- Ind.) and three other people, including two members of her staff, were killed in a car crash Wednesday afternoon, according to the Elkhart County, Ind., Sheriff's Office, reports The Washington Post.
"It is with a heavy heart that I am sharing this statement from the Office of Congresswoman Jackie Walorski," House Minority Leader Kevin McCarthy (R-Calif.) said in an announcement on Twitter.
Rep. Jackie Walorski, two staff members killed in Indiana car crash (The Washington Post)
Excerpt from The Washington Post: Walorski, 58, was involved in a two-vehicle crash on Route 19 south of Route 119, according to the sheriff's office, that also claimed the lives of her staffers Zachery Potts, 27, and Emma Thomson, 28, and the driver of the other vehicle, Edith Schmucker, 56. Schmucker, of Nappanee, Ind., was pronounced dead at the scene. The sheriff's office said Thursday in a statement that the sport-utility vehicle driven by Potts was northbound on Route 19 when it "crossed the center line for reasons that are unknown at this time and the two vehicles collided." The SUV struck the Buick LeSabre driven by Schmucker, which was headed southbound.
Embed from Getty Images
According to Newsweek, Walorski was a Republican who had represented Indiana's 2nd Congressional District. She first assumed the position in January 2013, and her current term was set to expire in January next year. In May, the incumbent congresswoman won her Republican primary and was set to face off against Pat Hackett, who secured the Democratic nomination in the race, for the Indiana House seat in November, ABC affiliate WBND-LD reported.
Who Is Representative Jackie Walorski? Congresswoman Killed in Car Crash (Newsweek)
Excerpt from Newsweek: According to her website, the South Bend, Indiana, native's top issues as a congresswoman included agriculture, education, energy, and defense and national security. If Republicans were to take back the House in November, she was set to take on a leadership role on the House Ways and Means Committee, overseeing the subcommittee on worker and family support. "She served Indiana in the Statehouse and the Congress with integrity and principle for nearly two decades and will be deeply missed," former Vice President Mike Pence said. Pence is a former governor of Indiana and a native of the state.
Embed from Getty Images
In another heart wrenching story, officials with the California Highway Patrol reported that three adults, one infant and a fetus have died in a fiery crash in a Windsor Hills neighborhood of Los Angeles Thursday afternoon. Authorities later announced that a sixth victim was discovered in the burned-out wreckage of another vehicle, according to CBS Los Angeles.
6 killed in fiery crash in Windsor Hills neighborhood (CBS Los Angeles)
Excerpt from CBS Los Angeles: Eight others, six kids and two adults, suffered minor injuries and were transported to the hospital. Another person was treated at the scene. The Los Angeles County Fire Department responded to reports of a fire at 1:41 p.m. near Slauson and La Brea Avenue. According to the CHP, the 40-year-old driver of a gray Mercedes-Benz ran a red light on La Brea Avenue, at Slauson, and crashed into about a half-dozen other cars. Two vehicles then burst into flames. The woman driving the Mercedes survived the crash and was taken to the hospital with serious injuries. Early Friday morning, CHP officers said that they had officially arrested the driver and charged her with vehicular manslaughter and gross negligence.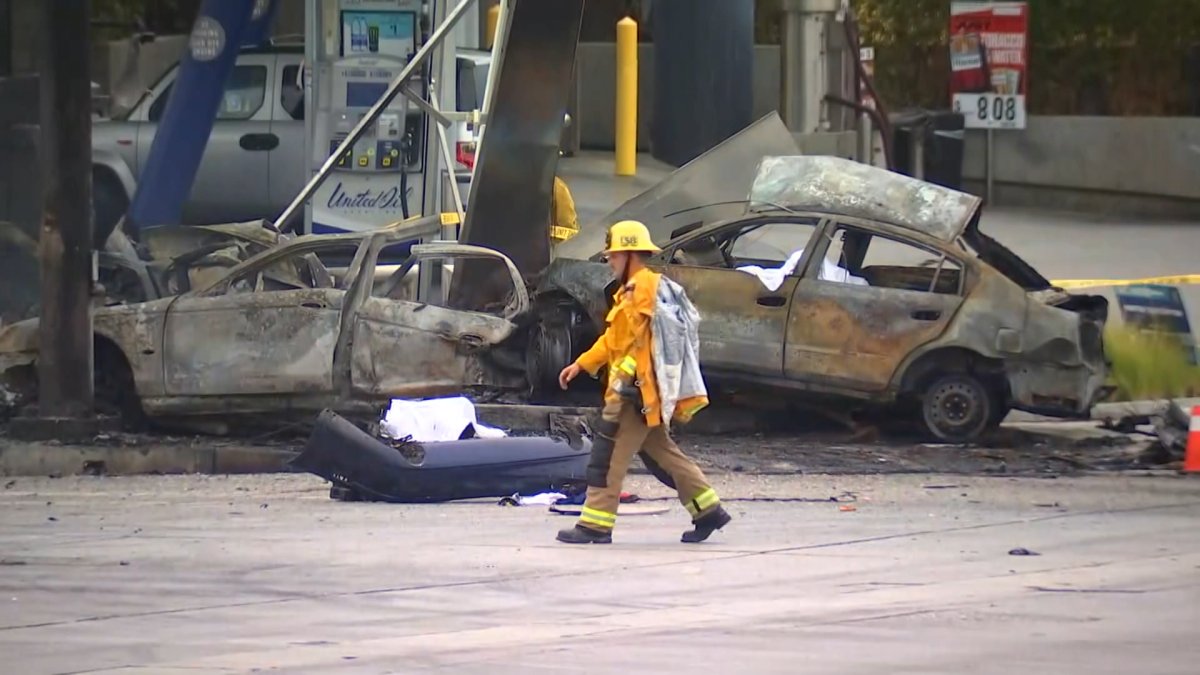 Jump to this week's edition of:
World News (Part 1)
World News (Part 2)
US News (Part 1)
US News (Part 2
US News (Part 3)
Politics
Culture
Business